Sale!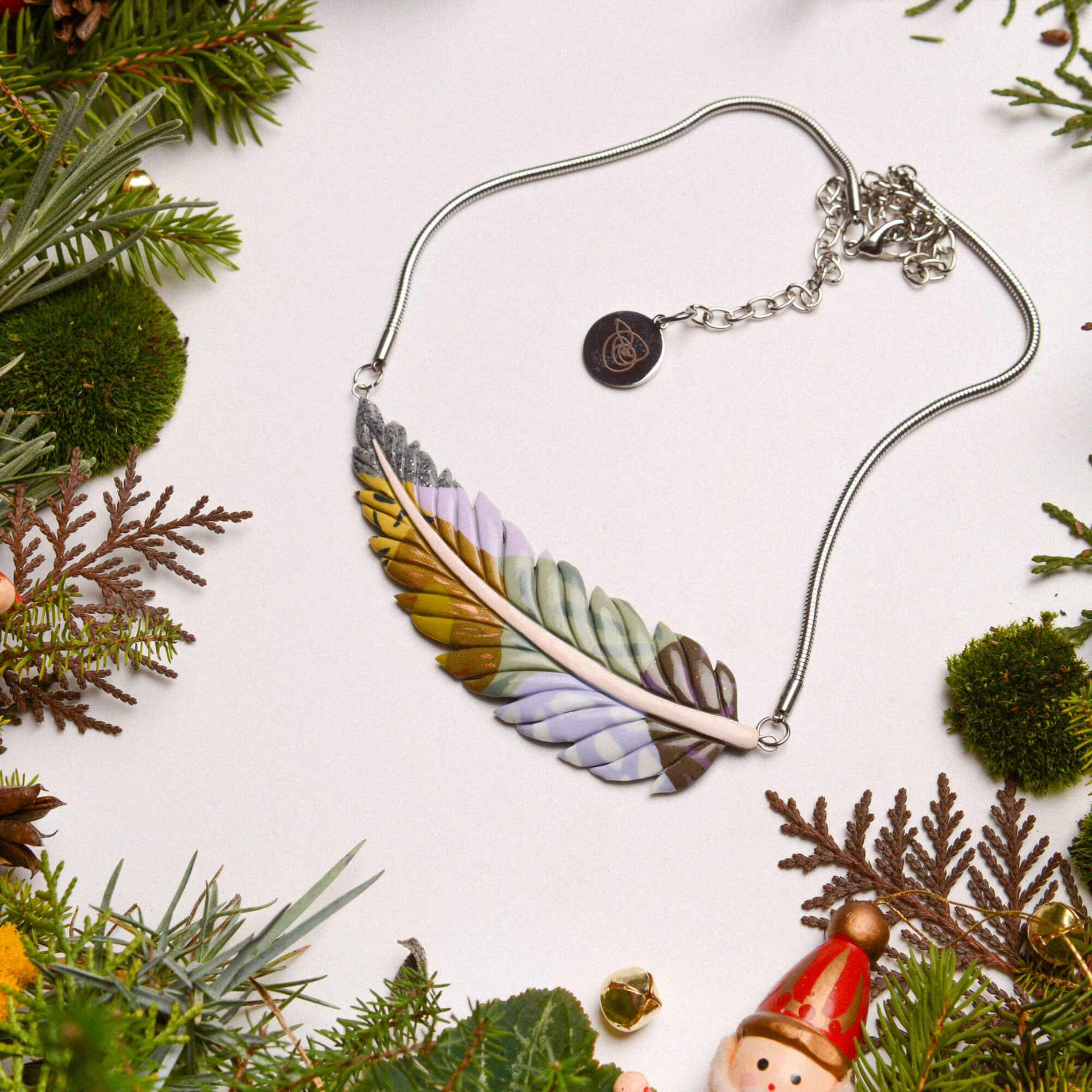 Feather-Leaf necklace
Materials
polymer clay, stainless steel chain
Dimensions
Pendant height: 3cm; Pendant width: ~9cm; Necklace length: 45 cm; Weight: 21g
Urban Jungle necklace – Feather/Leaf necklace inspired by nature – Colorful handmade jewelry for dreamers and wild spirits.
SOLD
Feather / Leaf necklace is 100% handmade piece and it cannot be repeated. They are all uniques after all 🙂
The necklace is inspired by the blossom of nature, and by its strength to always grow and move forward. Inspired by nature, with its vivid colors and highly detailed, carefully crafted texture, every piece tells a unique story, an Ode to the kingdom of Flora & Fauna.
A powerful colorful palette and fluid shape represent a growing, flourishing wild spirit of nature.
For dreamers and nature-lovers, romantics, and wild spirits. For urban jungle lovers!
*** Adjustable chain length! ***
*** Each package comes with extra postcards and stickers! ***
Oh, not to forget – we do ship worldwide! It goes like this – after we prepare and wrap up your order into a gift package, spice it up with some joy around, we will ship it to your address and forward you the tracking code, just in case. We then look forward to hearing your impressions, cause we love to know if another Marinush piece has safely landed and has found a lovely home 🙂
For questions and custom orders, feel free to contact me here, or write me an email at he[email protected], I'll be glad to chat with you or help you out!
Thanks for stopping by and hope to see you again soon 🙂
Marinush ships worldwide!
Your order will be prepared and dispatched within an average timescale of seven (7) to twenty (20) working days * from the day after the order is confirmed and completed. It is responsibility of the Customer to provide a correct and secure address where at any time the package can be delivered. All packages are being handled with care and dispatched via official serbian postal office (Posta Srbije). After choosing your perfect Marinush companion, you will be notified via email that the purchase is successful and once Marinush package is ready to ship, we will provide you with the tracking code. You will be able to track and trace your order at any time here >> http://www.posta.rs/struktura/eng/aplikacije/alati/posiljke.asp
* Please be aware that the dates provided are only estimates, and that your items may arrive sooner or later than anticipated.